Faux Painting Finish - Venetian Plaster
This site requires that javascript be enabled to view all of our content.
Venetian Plaster can give you that warm, Tuscan feel. These plasters are not just used for decorative wall finishes, they are also being used on concrete floors. The plasters consists of marble, sand, and lime that have been finely ground to a powder and can be tinted with universal artists colors.
Emily Smith displays venetian plaster faux painting examples.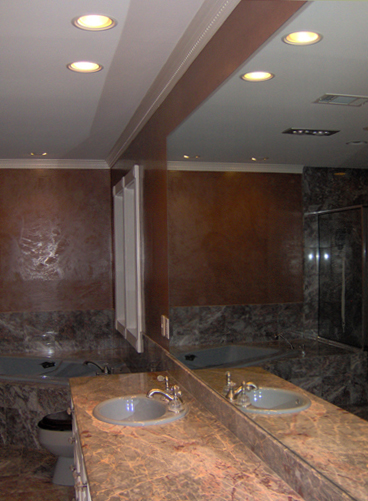 Venetian Plaster faux finish in a Master Bath in the Behr color
called Cappucino with a protective Clear Coat.
Page
1
,
2
,
3
,
4
,
5
,
6
,
7
,
8
,
9
,
10
,
11
,
12
,
13
,
14
,
15
,
16
,
17
,
18
,
19
,
20
,
21
,
22
,
23
,
24
,
25
,
26
,
27
,
28
,
29
,
30
,
31
,
32
,
33
,
34
,
35
,
36
,
37
,
38
,
39
,
40
,
41
,
42
,
43
,
44
,
45
,
46
,
47
,
48
,
49
,
50
,
51
© Copyright 1999 - 2014 EmilySmith.com - All Rights Reserved