Faux painting, fine art, and decorative finishing add beauty and value to your home. Color washing, frottage, sponging, are all faux painting techniques that will create a mood or the illusion of texture on a plain wall. You can opt for real texture by using venetian plaster, textural plaster, or even a crackle faux finish can add texture and variation to a space or object. Distressing and antiquing glazes can also add to the effect by creating an "Old World" charm and elegance. These custom faux finishes can be applied to cabinets, furniture, floors, walls, ceilings, wrought iron railing, canvas, moldings, fireplaces, decor accessories, stone, plaster; The options are infinite.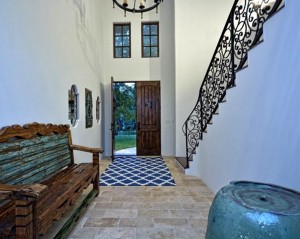 Texas artist Emily Smith is owner and sole proprietor of EmilySmith.com. With over 25 years of fine and decorative art experience, Emily Smith has offered her professional faux painting services in Austin, West Lake, Lakeway, and surrounding areas since 1999. From decorative finishing to fine art, she does it all. Faux painting, fine art, decorative finishing, murals, trompe l'oeil, venetian plaster, color washing, antiquing, crackle, gold leaf, plaster textures, metal patinas, stenciling, sponging, frottage,… Her clients have included homeowners, custom homebuilders, contractors, interior designers, business owners,… Projects large and small. Take a look at her faux painting finishes, fine art, and mural work. Emily Smith displays faux painting, faux painting techniques, fine art, decorative finishing, murals, and trompe l'oeil. An essential resource for fine art, interior design, and interior decorating. Thank you for visiting.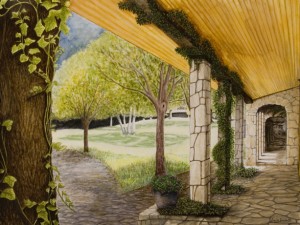 This 23 1/2″X 18″ Original Watercolor Painting of a terrace was planned from a photograph, with some embellishments added for interest.